Join a dynamic & compassionate SME
At Difagri,
we're cultivating
tomorrow's agriculture together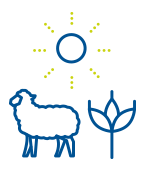 Whatever your job or assignment, every day you further the processes at our industrial facilities in Vendée. Because we firmly believe in collaborative work, we emphasise team spirit and initiative in implementing all our nutritional formulas. Our 36 employees play an active role in safeguarding Difagri's influence in France and abroad through its brand and products! 

employees with permanent contracts

Modern facilities, designed for well-being,
health and
work safety

Giving sense
  to our  economic development through insertion & disability

of yearly animal nutrition training
We can be strong alone, but unbeatable as a team.
That's the philosophy of PHILIPPE GAUTHIER,
compagny director

« As head of the company since 2011, I am proud of our staff who work every day to keep Difagri running smoothly. I encourage everyone to share and embrace the company's values, which include integrity, ingenuity, adaptability, progress and compassion.
Inside the company, our managerial watchwords are attentiveness, availability and dialogue. We make every effort to treat our employees with respect and ensure their well-being.
Outside the company, we are committed to a modus operandi of close relationships and transparency regarding our customers and stakeholders. Producing high-quality, safe end-products is central to what we do as an animal nutrition company.
It all comes down to strong professional ethics and a deeply humble approach »

Our effort
to promote
employee
well-being