Animal nutrition dedicated to your profitability
A team to support you,
throughout the entire lifecycle of your project

We aim to offer you the right formula adapted to your uses and expectations.

Our expertise is often put to the test by complex and specific requests which emerge from the challenges you confront in your professions.
An animal has to feel "good" to naturally perform well. Nutritional solutions should adapt to the constraints animals and breeder face, instead of vice versa. Anything is possible, and primary concerns are animal and breeder well-being, and a smarter production, which is of course your lever of performance.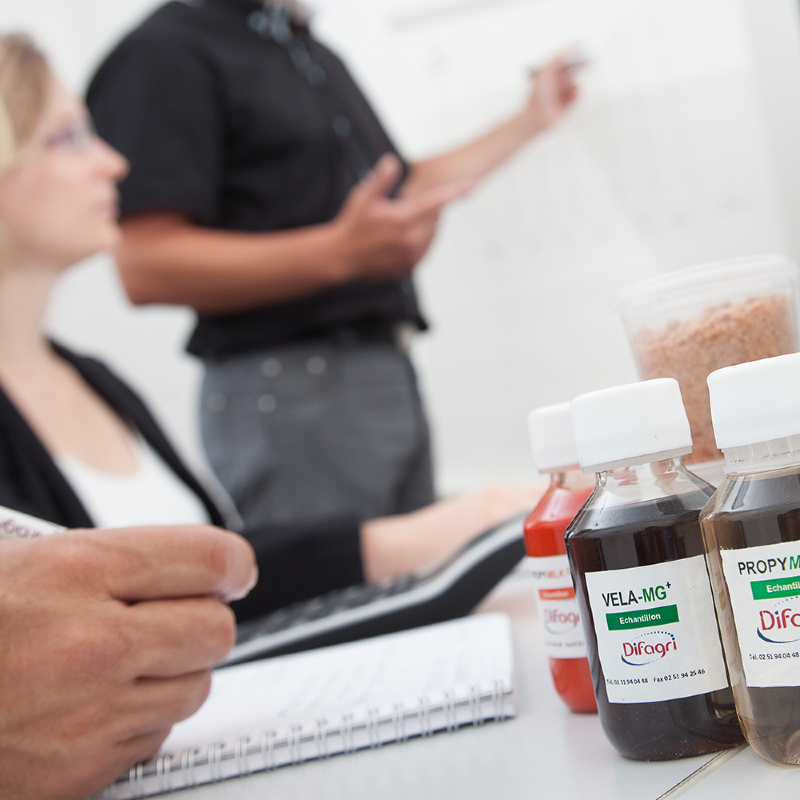 Difagri, your choice
for an independent,
irrefutable reference
in animal nutrition

With Difagri, you receive tailored support from the outset of your project to the moment your product is up and running.
Raw materials & additives
Zootechnical / Chemical engineers
Design and Development (D&D) for an in-depth understanding of your expectations

Thanks to our business-specific expertise and feedback from the field, we are able to design tomorrow's products in line with your objectives.

We study the industrial and/or zootechnical feasability.

We are able to design tomorrow's products
in our pilot plant.

We partner with you to customise formulas
in line with your objectives.
Tons of manufactured products per year
Qualified production team
A secure, high-performance manufacturing process

Since 2016, our new industrial site allowed us to double our production capacity. Three different production lines  manufacture a wide range of high-quality products:

Our powder and pellets production unit:
bags, buckets, Big bags

Our liquids production unit:
bottles, jugs, barrels, bag in boxes, containers

A production unit where we absorb aqueous and oily liquids into a mineral or plant carrier.
A packaging unit for smaller formats available in sealed and seamed metal or cardboard boxes, plastic boxes with lids or bags of 50 g – 1 kg.
Yearly on-the-ground supports
Always ready to assist you

A passionate, committed professional team at your side to take you further together. Our strength is built on the consideration and respect we show our customers. They drive our desire to ensure each of our processes satisfies their needs. Your challenges are central to what we do. That's why we take the time to analyse and understand them by offering you the technical and sales support you need to meet your long-term goals:

Identify your nutritional needs

Select your galenic formula


Benefit from technical and sales support
Marketing tools created each year
Printed and web communication initiatives
A service devoted to your image

In addition to sales support, we offer communication services devoted to your image and publicity. Our strategy remains part of a "win-win" philosophy which aims to find solutions that make the most sense economically for actors across the entire sector. Whether you are a distributor, dairy farmer, cooperative, etc., we guarantee a service dedicated to your brand:

Custom labels and technical data sheets


Printed and/or web product descriptions in your name

Promotional and informational posters, flyers, etc. displayed at your point-of-sales

Promotional media printing
OQUALIM - STNO and SOF certified production plant
A quality system centred on customer satisfaction

We implement a quality control system as a part of our continual improvement approach. It is continually in step with the demands of our business partners and regulatory changes. We established quality control measures to ensure the safety of our feeds, with strict traceability both upstream and downstream.
Un site industriel
récent et performant

Depuis août 2016, nous sommes implantés sur un nouveau site industriel à Saint Hilaire de Loulay en Vendée. Ce projet d'envergure pour notre PME, a permis de doubler notre capacité de production tout en améliorant le confort de travail des collaborateurs.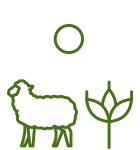 LEARN ABOUT OUR COMMITMENTS
We are available to
you viatelephone or email