The effects of live yeast
Actisaf is a thermostable live yeast concentrate specially selected for animal nutrition. It is the benchmark probiotic yeast for improving the performance of your animals. Its objective is to optimise the calving preparation phase and lactation.
What are the differences between live yeast and dead yeast?
Dead yeast is composed of:
Parietal carbohydrates: mannan-oligosaccharides or MOS;
Short-chain peptides;
Essential amino acids;
Group B
Dead yeast will provide a nutrient supply, unlike live yeast, which will affect rumen fermentation parameters.
What are the signs that live yeast is needed?
Heterogeneous dung with undigested particles
Poor digestion of feed, dietary transit
Abnormal and variable production, problems related to acidosis (lameness, low fat/protein ratio, etc.)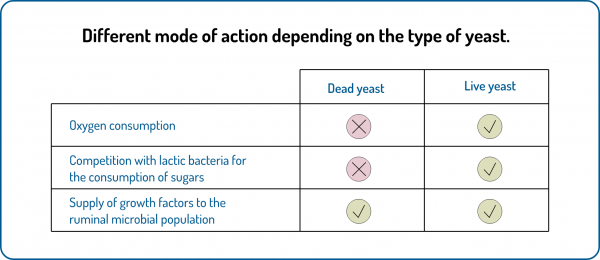 The role and benefits of Actisaf® Sc 47 yeast
Actisaf® live yeast helps to improve the overall health of the animal.
An improvement in ruminal pH (anti-acidosis effect)
The level of rumen acidosis can be measured by the pH. The addition of Actisaf yeast significantly reduces the amount of lactate in the rumen, resulting in a significant increase in pH.
Live yeast also promotes the development of cellulolytic flora. This makes it possible to improve the nutritional value of feed and thus improve zootechnical performance.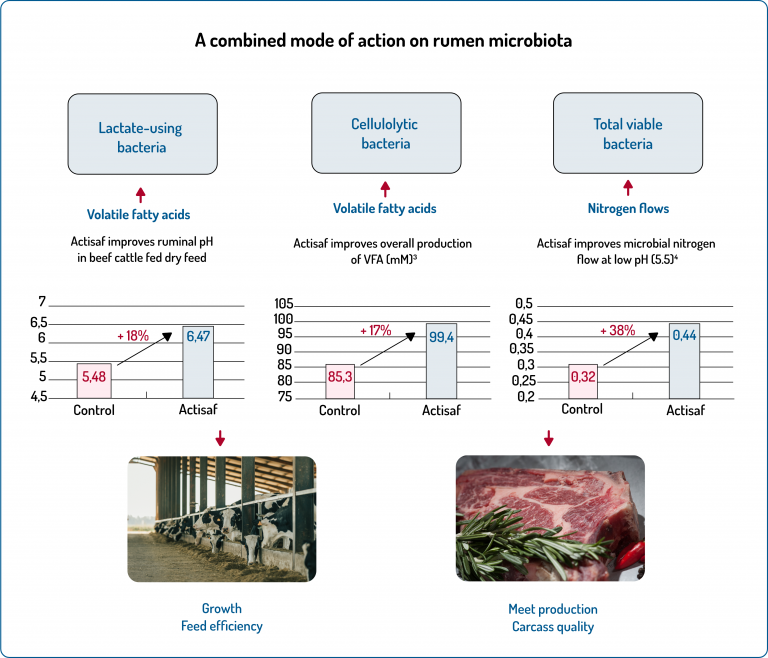 Feed efficiency and improved milk production
Thanks to its "stabilising" effect, Actisaf improves the digestion of nutrients and the productivity of the cow. The yeast helps to combat heat stress and maintain milk quality.
In addition, Actisaf increases milk production by an average of 1.9 kg/day.
Improved reproductive performance
Several published scientific studies have shown the benefits of Actisaf on
improving the reproductive performance of dairy cows.
To help cows through the transition period, the use of probiotic yeast will allow the herd to fully express its genetic potential. This will have an impact on milk production and reproductive performance.
Live yeast:
An overall improvement in the AI (artificial insemination) success rate
A decrease in the CI (calving interval)
A decrease in the calving – fertilising insemination (C-FI) interval
These results make it possible to improve the profitability of dairy farming.
DIFAGRI solutions: specific pre-probiotics
Drawing on its experience, DIFAGRI has designed a full range of pre- and probiotics, taking into account the objectives of each farm.
DIFAGRI solutions: specific pre-probiotics
RIMIFLOR YEAST provides live yeast (Actisaf) for improved feed efficiency, better digestion, increased growth and reduced risk of acidosis.
RIMIFLOR + is a combination of live yeast (ACTISAF) and dead yeast (RIMIFLOR FEED). RIMIFLOR + improves the nutritional value of your herd's feed and helps to manage the problem of acidosis.
Actisaf is an integral part of the feed. Live yeast helps to ensure rumen function and improve reproductive performance and feed efficiency.
The use of live yeast or Actisaf is essential for dairy cows as it improves rumen health by limiting the risk of acidosis and improving feed digestibility. This enables the cow to better digest her feed, giving her more energy to fully express her genetic potential.